Back
equipment
4 seasons sled - Norma Loops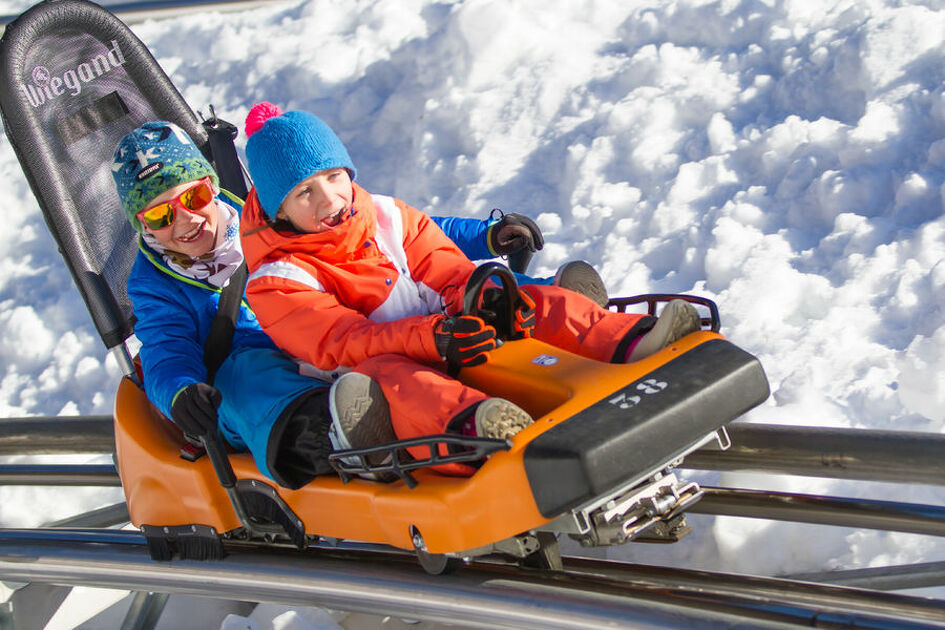 New for winter 22-23: the "Norma Loops", sled on rails. Once installed and secured, let's go for a 900 m descent between the trees of La Norma forest with 10 turns, 6 footbridges to cross the road and 3 complete 360° spins.
Description
An ultra fun equipment for a maximum of sensations. This new sled is accessible all year round! Direct access from the entrance of the resort. Once at the bottom of the descent, always well installed in your sled, you go back up automatically (and in a straight line!) to your starting point. And there... you might want to go for a ride right away!

You can be 2 in one sled (children or adults) if the maximum weight of 150 kg is respected.
Children under 8 years old and less than 1.35 m tall must be accompanied.
Children are allowed from 3 years old, accompanied by an adult.
Pregnant women are not allowed to practice the activity, alone or accompanied.
Cameras and telephones are under the responsibility of the user.

A snack bar is available to customers. Fresh and hot drinks, small salty food (paninis, French fries) and sweet food (pancakes and waffles). Open at the same time as the luge activity.
Equipment
Four-season sled run
Environments
In the mountains

Ski resort
Rates
8 € per sled,
35 € for 5 sleds,
65 € for 10 sleds.
Possibility to buy tokens on the spot or to load on a magnetic card of type "ski pass".
Methods of payment
Credit card

Check

Classic Holiday Cheque

Species

Online payment
Opening period
From 24/04 to 30/06/2023, every Saturday and Sunday from 14h to 19h.

From 01/07 to 31/08/2023
Open Monday, Tuesday, Thursday, Friday, Saturday and Sunday from 11am to 8pm. Wednesday from 11am to 10pm.

From 01/09 to 20/10/2023, every Saturday and Sunday from 14h to 19h.
Depending on the weather.

From 21/10 to 05/11/2023, every day from 1pm to 6pm.

From 11/11 to 16/12/2023, every day.
Depending on the weather.
Spoken languages
French
Adapted tourism
Wheelchair accessible with assistance

Accessible entrance

Wheelchair accessible reception desk/furniture
Location
Animals
Animals accepted : No
Themes
New in 2023: Sled on rails at La Norma resort: 900 m of descent in the forest with 10 turns, 6 footbridges and 3 complete 360° spins.